🔪 nasty notes (2022) 🔪


---
"One of the best case studies on art-world
exploitation and harmful labor relations
I've read, maybe ever."

- Shiloh Hodges, arts worker
---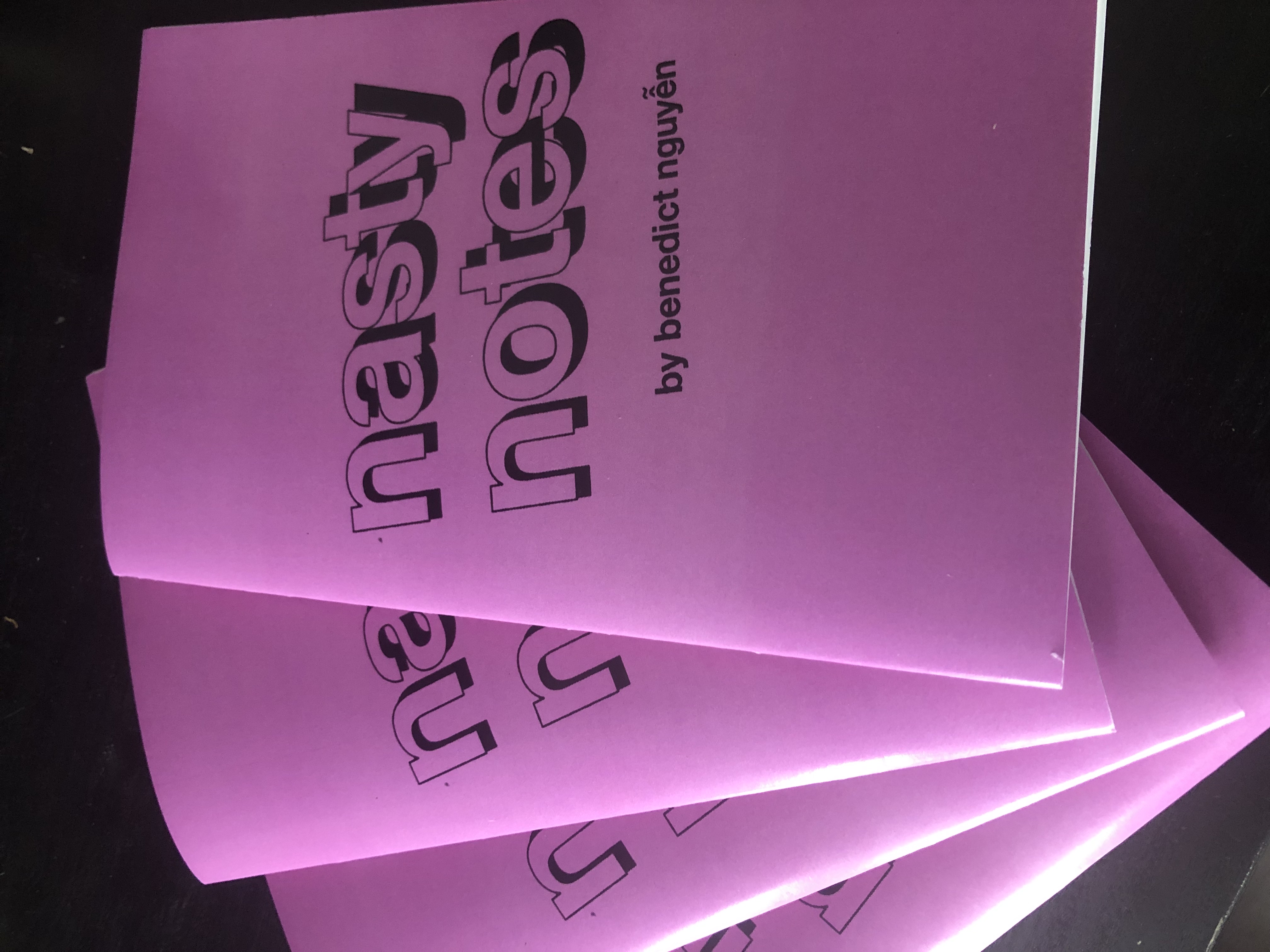 ---
nasty notes
AVAILABLE NOW

physical copy*
*US Shipping via USPS Media Mail: $5
PDF copy
Publication date: 11/16/22
32 pages, 5.5 x 8.5 inches
$11-28, print
$5-20, pdf
Edition of 250
"I just know that either one of us could blow up
a whole project with just one email if we wanted."

-Johnnie Cruise Mercer, arts worker
---
you've all heard rumors about the times ---------- sent me -------- and i wrote back with a nasty note that said ------------------ and attached an invoice. and they paid me.
from the girl who brought you
#freelanceflailing
,
That Piece on labor conditions at the museum
, "
Giving Back by Giving it Up
,"and
years
of
writing on labor dynamics
comes never before seen correspondences, curated from her very extensive archive for benedict's first zine,
nasty notes
.
😈
compiling over six years of selected emails sent by benedict in response to harmful institutional actions,
nasty notes
recounts benedict's attempts to repair ruptures. as the missives proceed, what's ultimately unveiled are her evolving tactics for naming and getting paid for the emotional and intellectual labor required to engage with exploitative arts organizations. 😈
this is a zine for arts workers in particular, but it's also for any worker who thinking about "quiet quitting" in the apocalyptic age of the "great resignation" and @changethemuseum and the DEI industrial complex.
rumors of benedict's emails have been circulating for years. 😈 now, they can be yours! 😈
---
"benedict nguyễn's nasty notes asks institutions: "Is it that hard?," as in, "...what does accountability look like..." for the relationship between institutions and workers.

let's not forget that the release of workplace violations comes from deep capitalism-driven trauma, and nasty notes is spectacular resistance. we know these wounds well—nasty notes says no."

-t. tran le, arts worker
---
FAQs

If cost is prohibitive, send us a note for the PDF or sign up for freebie waitlist here.
If you'd like to a gift a broke arts worker a free copy, please add a note to your order.

If you know benedict, feel free to coordinate for an in-person pick up to save $5 on shipping,

By default, physical copies ship within the USA only.
But for workers beyond, send us a note and we'll work something out.

Orders process within 5 business days. Thanks for your patience!

No refunds on shipped physical copies or emailed PDF copies.


We're a tiny girlboss operation, thanks in advance for your patience with any girlboss hiccups!

---
"Functioning as both an archive of past correspondences
and a blueprint for future enactments, nasty notes
provides a didactic template on how to dirty talk with
institutions, or how to speak truth to power as power.

Sanctioned within the lexicon of professionalism,
what's nasty about nasty notes is not its linguistic
delivery, but its explicit flirtation with and assertion of
economic relations that are only meant to be implied.
#freelanceflailing remains ever precarious,
threatening to unravel the illusion of order altogether."
---
XTRA NASTIES
xtra reading from the zine,
i.e. a self-referential citational practice, etc. ;)



Forecasting the next stage of #freelanceflailing amid so many failed labor relations - National Sawdust
Part 1: Interpersonal harm is a predictable horror of the art world
Part 2: If me valuing myself sounds like a threat, your power trip has already gone too far

moving, unknown / vague ideas around the thing itself: an artist statement - Diacritics

Giving back by giving it up: on gentrification, reparations, dance, etc.
(Part 1 & Part 2) - Center for Humanities

Sara Ahmed - Complaint as Diversity Work

---

Image Descriptions:
Image 1: my hand over a proof of "nasty notes" page 16: paragraphs of text with selections blocked out.
Image 2: copies of "nasty notes" arranged in a fan: pink-purplish cover with "nasty notes" in black block lettering and "by benedict nguyễn" in bold black ink